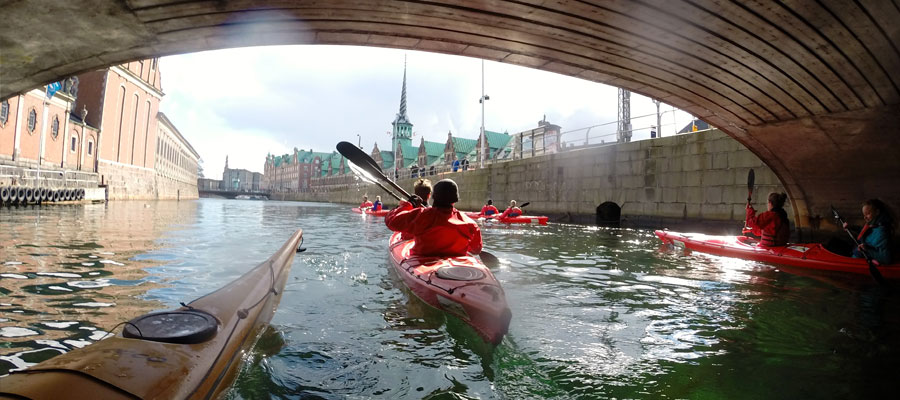 Copenhagen Kayak Tour
Take the entire company or staff group out on the water and receive a strong injection and sense of joy and unity as we paddle around the fantastic canals of Copenhagen. We start at our base at Knippels bridge where you´ll get a thorough introduction and instruction in kayaking. Then we´ll hit the water, where our instructors and guides lead you past Nyhavn, Noma, Copenhagen's new Playhouse, Copenhagen's Royal Castle, The New Opera, Christianshavn and the Black Diamond. The tour ends with a paddle around the parliament Christiansborg and the Danish Stock Exchange.
Back at the base you will get a chance to play around in the kayaks and challenge each other a bit (if the time schedule permits).
We want to ensure you all a great and safe experience on land and on water. We use double sea kayaks that supports stability and safety. This gives everyone a safe and enriching sea kayaking experience where you do not have to worry about falling into the water. Our instructors have extensive experience in managing and leading groups on the water kayaking, and ensuring that your experience is a good one.
Did you know that we have our own Kayak Bar? This bar and restaurant offers fantastic dinner and a wide selection of drinks. So let us organize a tour on the water followed by an enjoyable evening of great food and drink.
We look forward to welcoming you at our base.
Cancellation only occurs if there is a strong storm or thunder and lightning. Rain and wind cannot hold us back.