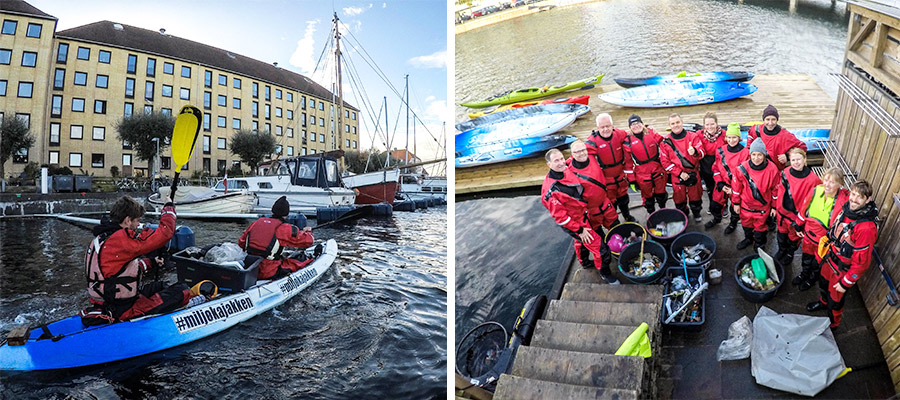 ABOUT THE TOUR
A company event that makes sense. Help make a difference and the environment will love you for it!
On the Greenkayak tour you will learn about the efforts to keep the Copenhagen harbour clean and you, together with your colleagues or friends will be able to contribute to making sure the water canals around the city are free of trash.
We will go on a 2-3 hour tour during which we will explore the hidden gems of Copenhagen, paddle were pedastrians and other mere mortals cannot enter and fill our trash buckets with as much waste as possible. After the tour we will weigh how much waste has been collected!
ABOUT THE GREENKAYAK INITIATIVE
GreenKayak is supported by organizations like Carlsberg, Sharing Copenhagen, Kulturhavn365 (and more), and aims to create a cleaner harbor environment. With this initiative, we want to put a greater emphasis on the environmental challenges we are facing and encourage the community to show greater responsibility for the level of waste unaccounted for.
As kayakers and casual users of the harbor, we find that the amount of waste in the water is problematic, especially with regards to plastic packaging, shopping bags and construction material. The plastic waste in particular not only harms the harbor environment locally, but dissolves and is carried to open waters like the Baltic sea and even the ocean. The plastic thus becomes an unfortunate part of the global food chain and endangers human health and nature's diversity.
We donate 1000kr from each tour to the GreenKayak NGO in order to establish the initiative in as many countries as possible.
LUNCH & DINNER AFTERWARDS
Did you know we have our own Kayak Bar? If interested, we can organize a joint lunch and dinner under our (real) palms trees where you will get a chance to try our diverse food and drinks menu and share your fresh experience with other.
For more info visit kayakbar.dk or mention any questions in the comments section.
PRACTICAL INFORMATION
We have changing rooms with lockers where you can leave your things and showers that can be used after the tour.
We also have kayaking gear, such as wetsuits and wind-proof jackets free of charge, however, we recommend bringing your own sportswear to change (especially when it's hot).
During the tour, we go in double seakayaks which are stable and easy to control. Moreover, you receive buckets and 'grabbers' which will serve you when collecting trash.
Our certified instructors will welcome and guide you through the experience, and help you whenever help is needed.
WHAT TO BRING:
Sports clothes and a towel
Good mood
A desire to explore Copenhagen from the water