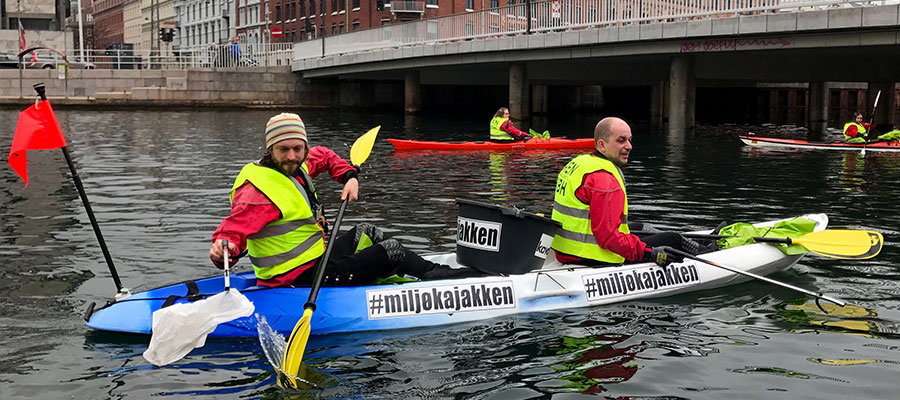 Free - But you have to collect waste
GREEN KAYAK
Practical Information
GreenKayak is a non-profit initiative and intends to reduce waste volumes in Copenhagen Harbor.
The GreenKayaks is designed for two persons and equipment is available for collection and safety on the water.
Against a free trip with the GreenKayak, we expect that a few tasks will be met, so that the kayak is used as intended. Therefore, a contract must be signed before the start of the trip so that there is an understanding of the GreenKayak objectives.
We expect that as much waste is collected as possible on the trip and that the trip is documented with photos or video clips that are added to social media.
There is no waste that is too small and waste can be collected in many places at the harbor and the waste bucket can quickly be filled.
Take care of other boats and watch out for Canal Tours, they can sometimes be busy. Do not paddle into Nyhavn or towards the one-way water traffic in Frederiksholm Canal – paddle in from the Black Diamond if you want to paddle around Christiansborg.
When landing, the waste must be weighed and written into the GreenKayaks folder. Photos or movies are uploaded directly to social media with #GreenKayak. Ask the staff for advice if necessary.
There is only two GreenKayaks available. If there are more than four people who would contribute to a cleaner harbor, kayaks can be rented out at Kayak Republic for payment. The Green Kayaks is in the same place at Børskaj 12, Copenhagen K.
Link to Website:
Link to Facebook:
https://www.facebook.com/GreenKayakCPH/
Link to Instagram:
https://www.instagram.com/greenkayak.ngo/
E-mail: Info@greenkayak.org
Presentation of The Green Kayak
Since the 1990s Copenhagen Harbor has undergone a transformation from being a port of distinctive industry and shipping to today being a place of recreation and housing. Water quality has been significantly improved over the past couple of years, and the harbor is widely used for bathing, boat trips and excursions. Likewise, most of Copenhagen's new construction is close to the harbor areas. At international level, Copenhagen Harbor is highlighted as a strong brand for the city as a whole, and has inspired other cities to create new urban spaces and activities around port areas.
Unfortunately, as kayakers and users of the harbor, we experience the amount of waste problematic, especially in the case of plastic packaging, carrier bags and construction waste. The waste is detrimental to the overall impression of the harbor both on land and water. The plastic waste in particular does not only damage the harbor environment locally, but dissolves and is carried out with ocean currents into the surrounding waters where wildlife confuses it with food. The plastic thus becomes an unfortunate part of the food chain and at the risk of human health and the diversity of nature.
GreenKayak is an NGO and the first GreenKayak was launched at Kayak Republic, which aims to create a cleaner Copenhagen Harbor. With this initiative, we want to focus on Copenhagen Harbor's environmental challenges and encourage Danes and tourists to show greater responsibility for the waste they produce. Through co-operation and information, GreenKayak will create a platform and be the initiator of environmental improvements in Copenhagen Harbor.
GreenKayak is physical kayaks that can be borrowed free of charge for up to two hours if they also undertake to collect waste on their trip through the waterway or the canals, and distribute photos or video clips from the trip. A contract must be signed for compliance with the requirements and understanding of the purpose of GreenKayak. The kayak appears different from other kayaks that can be rented to draw attention to the message of the GreenKayak and inspire others to ensure a cleaner harbor.
By borrowing a GreenKayak you have the opportunity to enjoy a trip to Copenhagen harbor in kayak while supporting a good purpose. The staff of GreenKayak will check the collected waste to become more aware of waste types and quantities and share experiences with other interested parties. We hope that with this initiative we can initiate a number of initiatives that embrace wide and make Copenhagen Harbor an even better place to explore and reside.